**GUEST POST**
Author: Reverie Farms
Reverie Farms and Soaps is a small family farm in Argyle, Texas. Where they sell the best natural organic cruelty-free soap!
"Leave the Dirty Work to Our Soaps"
---
Tea Tree oil has so many wonderful uses and has long been used for health, beauty as well as cleaning! Tea Tree oil is also known as melaleuca oil and is an essential oil that is made from the leaves of a plant native to Australia called the Melaleuca Alternifolia. Tea Tree essential oil is yellowish in color and is one of our personal favorite essential oils. Find out the 5 Hacks for Tea Tree Essential Oil!
 1. Heals bug bites and cuts
With summertime in full swing, with the natural antiseptic properties of Tea Tree essential oil It can be applied directly on the wounds,  cut, insect bites and stings, etc to ward off infections.
2. Natural household cleaner
The innate antibacterial and antimicrobial qualities of Tea Tree essential oil allows it to also be a great choice as a natural household cleaner. It can kill bad bacteria all around you and your home. Just take Tea Tree essential oil and mix it with water and vinegar to make a cleaning cocktail so you can apply it to any surface needing cleaning such as kitchen counter tops, toilets, bathtubs, showers, sinks, etc!
3. Acne control and prevention
Tea Tree essential oil is great at fighting acne! It is one of the most effective ways of naturally combating it. You can easily create your own home solution by taking Tea Tree essential oil and slightly diluting it with water then just apply directly to any pimples. Its natural antibacterial and antimicrobial properties we discuss above are some of the same reasons why it works so well against acne as well as its antioxidant properties.
4. Reduces inflammation
A phenomenal feature of Tea Tree essential oil is that it can actually help reduce inflammation! This includes it being used as a natural eczema treatment and for helping reduce psoriasis. It may not completely cure these issues but it can certainly help, especially when used in conjunction with natural and organic products.
5. Aromatherapy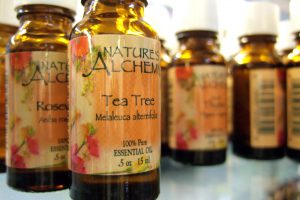 Tea Tree essential oil can help stimulate blood circulation as well as the immune system. With many of the properties we discussed earlier, Tea Tree essential oil can act as a buffer against some infections. Many people love the smell of Tea Tree essential oil and even if you don't it blends well with other essential oils as well. These attributes make using Tea Tree essential oil in aromatherapy a great choice!
Reverie Farms & Soaps uses Tea Tree Oil in their skin care products that is what makes their organic, cruelty-free soaps and scrubs so great! You can check out their full line of products here!
Have you used Tea Tree Oil before? What did you use it for? Did you find any uses for it not listed here? Feel free to share it in the comments!