I can tell you I pretty much tried everything under the sun when it comes to dealing with my adrenal fatigue. I suffered from adrenal fatigue for many years not knowing what it was. Conventional doctors just wanted to treat my symptoms and not the root cause. They said I was just tired, depressed, and needed to get better sleep. So, of course, they tried prescribing meds to help cope with those issues. Watching my parents eat pills like they came from a Pez toy I knew that was not how I wanted to live my life nor for my children. So I began researching, I always have been interested in alternative health but it is hard to cure something when you don't know the cause at first. Adrenal fatigue can easily be misdiagnosed, it is hard to pinpoint what the problem is if you want to know the top symptoms check out my adrenal fatigue post.  Luckily through the help of a naturopath, my research and some lab tests I was able to get to the root cause. I was then introduced to homeopathy, I finally found a treatment for adrenal fatigue, something that was potent and lasting.
I've tried many other methods such as supplements, change of diet, essential oils, holistic healing and more. While that did help, it was only temporarily and then my body went back to its pattern. However, from those experiences, it really helped me understand my body more and to trust it.
The journey to healing with Homeopathics
When I was introduced to homeopathy I just thought it was another spin-off from supplements, but I realized it is a whole lot more than that. It is really potent stuff and it combines the finest natural products. Homeopathy empowers your body to heal by nourishing the organs. There is a lot of information out there to discredit homeopathy but that is because this notion that our body can heal on its own is too controversial. You are not dependant on homeopathic treatment once you are healed, unlike conventional medicine.    I was taught that certain emotions are contained in the organs in Chinese medicine. So the symptoms you experience are linked to those particular organs. I will write a post on this in the future, stay tuned! So I found that homeopathy is the vehicle to help heal and nourish those certain organs, and in my case, heal my adrenal glands (stress, anxiety), my liver (worry, negative thoughts). Homeopathic medicine is made with this in mind – to heal specific organs. So below is an honest review of one of the best homeopathic treatments I found to help heal my adrenal glands.
Treatment for Adrenal Fatigue
Ribes Nigrum – Review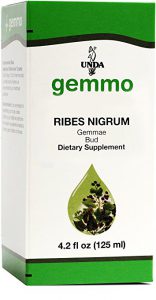 Benefits
Stimulates and supports the adrenal glands. This remedy is known to treat conditions such as allergies, chronic head colds, asthma, bronchitis, migraine headaches, arthritis, prostate problems, adrenal atrophy, and infections and much more.
Ingredients
Black Currant is the main ingredient, a shrub berry native to central and northern Europe. It is cultivated commercially and domestically. It is found in traditional dishes, can be cooked or eaten raw. The berries are sweet and are known to be in certain jams, and syrup.
Glycerin – sweet odorless liquid that in non-toxic
Ethanol (Beet) – A bio fuel that is used from fermented beets
Purified Water
Dosage
The recommended dosage is 50 drops 3 times a day, I found that to be a bit too much for me. So I reduced the amount to twice a day once in the morning and in the night 20 drops each time.
Duration
Currently been on it for over a month with no side-effects
What it does for me
Gives me an amazing amount of energy
I noticed that I was able to be more active and not get tired out as easily. Due to having adrenal fatigue you often get tired out from the smallest type of physical activity. When I take it I have better endurance and maybe this has something to do with Ribes Nigrum healing the tissues, which it is known for.
Reduces heart palpitations
Having anxiety and adrenal fatigue do go hand in hand, when I am in a stressful situation, I have no more heart palpitations!
No more dizziness
Being stressed my blood pressure drops and with that comes with dizziness, I no longer get this feeling!
My muscles aren't weak
I find my muscles get shaky when I am stressed or when I have low blood sugar. This feeling has completely gone!
I have more clarity
Adrenal fatigue suffers usually suffer from brain fog, I get a lot of that. When you are stressed it affects your short term memory so hence why you get brain fog. I find I have more clarity and can remember things a lot more!
Cons
The only thing I found to be a con is since I am so sensitive to any type of medicine, if I take too much I can't sleep. This stuff gives you an insane amount of energy, which is what you need when you have adrenal fatigue but I learned that if I take it too close to bedtime I would be up until 3am, lol. The crazy thing is I wasn't tired, and the next morning I felt great even though I was up so late.
Conclusion
My experience with Ribres Nigrum has been very favorable. I have to say it really has given me a new found vitality that I thought I never had since I was suffering for so long. I encourage you to try it and see if it works for you. Check out the reviews on what other's been saying too. You owe it to yourself to empower your body to heal itself.  I hope it will be beneficial to you as it is for me. Below you can click on it to see reviews and to purchase. Let me know what you think in the comments below!