Yogi Swing™
Experience the benefits while getting a good workout at the same time! This aerial yoga swing will assist you in several ways.
There are 4 major reasons why this yoga swing will benefit you the most.
1. Relieving stress
2. Reduce tension in the body
3. Strengthening the core
4. Elongating the spine
We all know how Yoga can be a rewarding experience, there are many different ways to do yoga. Challenge yourself with the Yoga swing, take yourself to new heights and experience something different.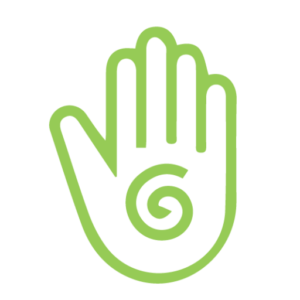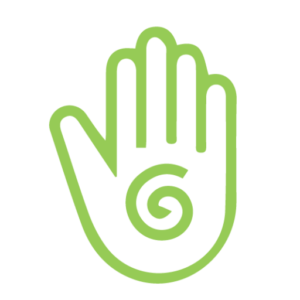 30 Day Happiness Guarantee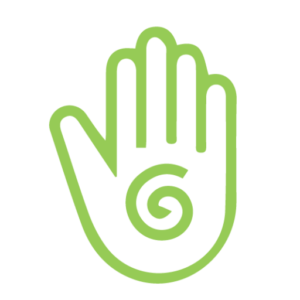 Yoga Swing
MAIN FEATURES
Professional design: a multi-functional anti-gravity yoga hammock made with high-intensity parachute fabric.
Unique features: large and comfortable, lightweight and breathable fabric, triple height adjustment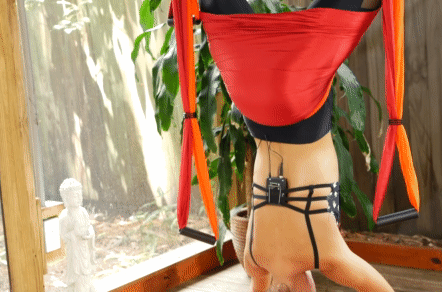 Health Benefits: Use it to decompress the spinal cord and enhance the strength of the upper limbs. Regular use can enhance the body and maintain a healthy body versatility: not only as a yoga hammock, but also as a swing chair, when the longest part of the middle.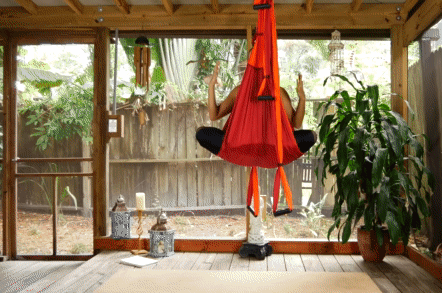 Take it out independently, you can hang it on the tree and use it as an ordinary hammock.
What You Can Expect from the Yoga Swing
Pain Relief - After a long day, spend a few minutes upside down and allow gravity to relax and elongate your back


Injury Prevention - Start strengthening and elongating your spine today to prevent future injury and relieve wear and tear.


Flexibility - Add that extra depth to every stretch with strong and supportive materials that allow you to bend further with confidence.


Core and Upper Body Strength - Provide your core with a dynamic new challenge. Use gravity and inversion to push your upper body and core to the limit.


Peace of Mind - With just a few minutes of daily use, our yoga swing allows you to rest easy knowing you're providing the elongating traction that your spine needs.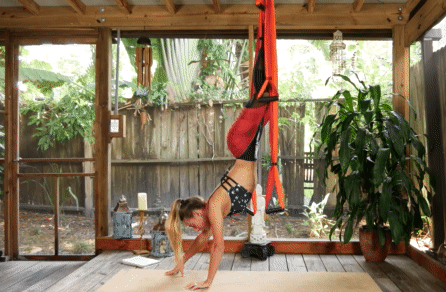 FAQ
WHAT IS IT MADE OUT OF?
The material is called nylon taffta (also called parachute cloth) that is strong and durable and able to withstand wear and tear over time. 
HOW MUCH WEIGHT CAN IT HOLD?
The durable fabric is strong and it is tested to hold up to 450lbs
WHAT ARE SOME OF THE WAYS WE CAN HANG IT?
You can hang it the yoga swing in many different places it is quite versatile, provided you deem it is safe. You can hang the yoga swing on a tree branch,  on a pull up bar in a doorway, from a ceiling, a beam, and fixed structures, there are tons of opportunities.
WHAT IS INCLUDED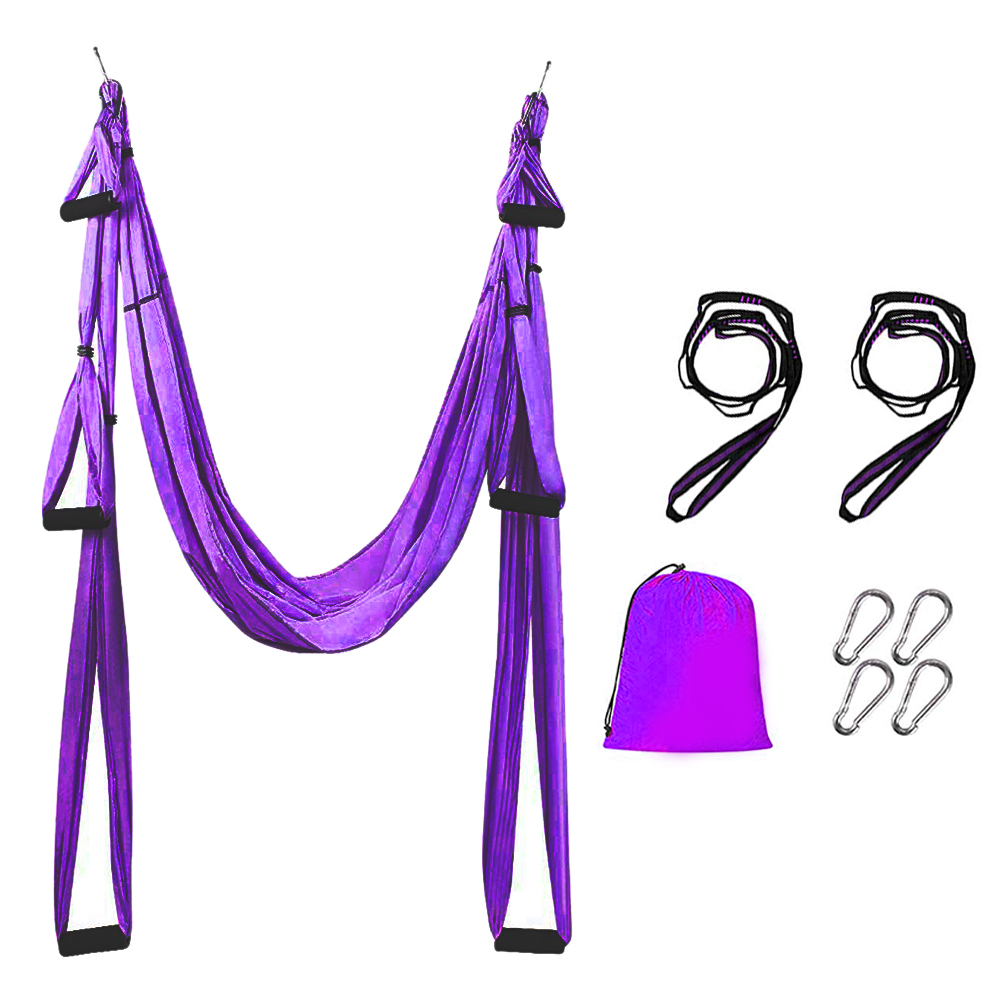 Package Includes:
1 x Yoga Hammock
6 x Handles
4 x Metal Buckles
1 x Cloth Bag
2 x Extended Belts
(May not appear exactly as shown on pictures)
Installation Instructions
There are various ways to hang your Yoga Swing. Here are the most common.
1. Exposed Beam Setup
Check to see if you have a solid beam in your house or outside on your deck somewhere. Then:
Take the ropes or the straps of the yoga trapeze and drape them over the beam in such a way that each rope will hang from either side of the beam.
Now, with your fingers pull back the fabric of the trapeze on the carabiner clips of the main sling.
Now clip both the looped end of the straps and put them through the knotted end.
Then repeat the same with the carabiner clips on the handle sets clipping one handle set to each side.
2. Ceiling Hooks Setup
The ceiling hook set up is considered to be the most stable and the permanent set up of all and this can be done with the help of ceiling hooks. Ceiling hooks are easy to mount into both wood beam and concrete and they are solid as rock. This ensures your safety by making it super sturdy, by using the ceiling mount on this site, you will get a sturdy mount that is used commonly with a yoga swing.  (Please ensure you are mounting into a solid surface and not into drywall or thin beam.
To hang a yoga trapeze from ceiling, these are things you need:
One pen
A measuring tape
One step ladder
hammer drill to create the bolt holes
Two ceiling Mounts
Once you have all these you are ready to start with the process of setting it up. The process is:
1. Your first step would be to position the ceiling hooks about 40-55 cm apart from one another as you press them against the ceiling. Mark the position with the pen and mark the circle where the screws will exactly go in.
2. Drill the screws into the depth of approximately 5-6cm. Ensure it is solid and in place by tugging on it with fingers prior to connecting the yoga swing.
3. Then follow the same instructions for using the extender straps or daisy chains to hang your yoga trapeze.  
There are various ways you can use the Yoga Swing. Check out this video for installation tips.
* Disclaimer -It is better to call a professional while hanging a yoga trapeze to a ceiling using ceiling hooks or using the straps. Use at your own risk, Yogi Trends will not be liable for any injuries or damages made from the use of this Yoga Swing. By purchasing this Yoga Swing you understand and agree to the terms. 
Disclaimer: This site is not part of the Facebook website or Facebook Inc. Additionally, this site is NOT endorsed by Facebook in any way. FACEBOOK is a trademark of Facebook, Inc.